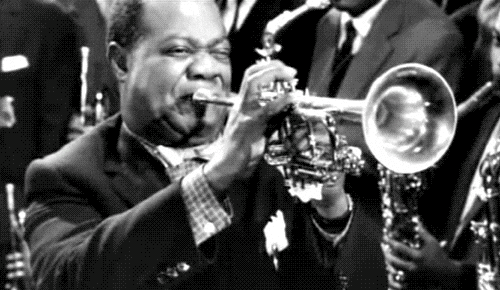 Louis Armstrong was born in New Orleans, Louisiana on August 4, 1901. Shortly after being born, Armstrong's father abandoned his family. Louis was an all-star virtuoso. He was arrested on New Year's Eve of 1912, because he shot his step-father's shotgun. He married Daisy Parker, a prostitute, in 1918. King Oliver invited him to join The Creole Jazz Band. Louis eventually remarried to the pianist of The Creole Jazz Band, Lillian Hardin in 1924.
After they married, Lillian said she felt that Oliver was holding Armstrong back. He made his first record with his own band called Louis Armstrong and His Hot Five in 1925. Louis was starting to appear in movies by 1932, and in that same year he was traveling for his first Tour of England. He sadly died on July 6 of 1971
Louis Armstrong three character traits are determined, influential,unique. He was determined because even though he had some minor and major setback in his career he kept at his job and never stopped.
He is influential because his music is still listened to today. Most pop artists and other musicians look up to him because of all the hard work he did during his career. Armstrong was unique because he was critiqued by some of his colleagues because of the way he talked and his attitude.